We Offer full auto repair services and we specialize in Auto A/C repair. We also offer Pick-Up and delivery and 'ride home service' when needed. Most repairs can be completed in one day if the parts are available in the local area. We open at 8:00am and close around 6pm or when the last car is finished! We take pride in offering one day service when it is possible. We know how bad you need your car.
We have a State-Of-The-Art 12 bay modern facility with all the latest test equipment including computer diagnostic and vehicle interface equipment. We have a Super Clean Customer Lounge and we are only 25 feet from McDonalds. Our Customers come FIRST. Come see!!!
A/C Service and Diagnostic Procedure
Cool Car Auto Air is YOUR Cooling System Specialist
Your cooling system is what keeps your car from having a meltdown. If you didn't have some way to cool things off, your engine would turn into a solid block of useless metal in no time flat.
It is very important that the cooling system be serviced at least once each year.
Our A/C Service and Diagnostic Procedure consists of the following list of checks and inspections:
Check the operation of the blower motor
Check the vent outlet Volume (Service Volume)
Check the condition of the drive belts and tension
Check the condition of the drive belt tensioner
Inspect the low Pressure Hoses
Inspect the Drier/Accumulator for corrosion, rust, leakage
Check the upper Radiator Hose
Check and Clean the condenser
Check the lower radiator hose
Check the operation of the Compressor Clutch and bearing
Check for proper operation of the Condenser/Radiator cooling fans
Inspect for proper Compressor Clutch Air Gap
Pressure Test the Suction side of the A/C system
Pressure Test the Discharge Side of the A/C system
Inspect the Evaporator Case if possible for visual damage/cracks
Check for proper air flow across the Condenser and Radiator
Check Engine Compartment vacuum lines for heat related deterioration
Check coolant level on cool engines and adjust as needed
Inspect Engine Compartment Heater Hoses for wear and coolant leaks
Check A/C Service Valves and install new caps when needed
Perform a complete Electronic Leak Test.
-----------------------------------------------
Additional Diagnostic time may be needed for more advanced refrigeration problems and electrical problems.
Brake Service
Cool Car Auto Air is YOUR Brake Specialist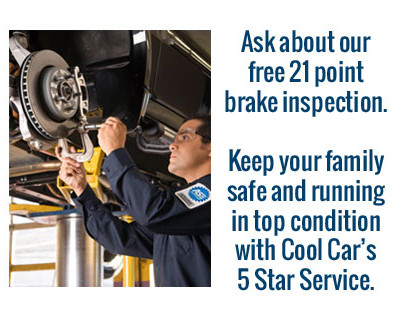 Most vehicles today have disc brakes. Disc brakes slow your vehicle by using calipers to squeeze the brake pads against the rotating rotor. A benefit of disc brakes is their great efficiency and ability to dissipate heat fast, which is generated during braking.
Preventative Maintenance
Cool Car Auto Air is YOUR Preventative Maintenance Headquarters
Our recommended preventative maintenance services include:
Oil change, lube, and filter
Tire rotation
Brake and transmission fluid replacement
Clean fuel injector
Air filter inspection and replacement
Transmission inspection
Radiator inspection and service
Fan belt inspection and replacement
Vehicle inspection
Tune-up
Air conditioning service
Battery inspection
Factory-scheduled maintenance
Oil Change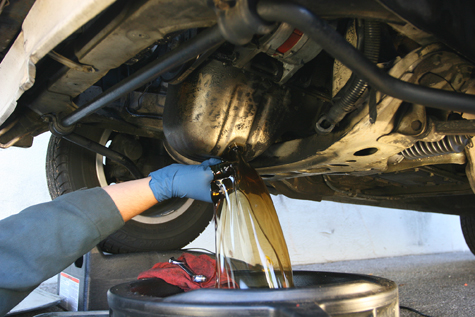 One of the most common tasks to perform is replacing your engine oil. Frequent oil changes are supposedly the most important thing you can do to maintain and prolong the life of your engine. With the better oils that are available today, the requirement for frequent changes is diminishing. Even though most new car manufacturers now recommends oil change intervals that are much farther apart than in the past, I usually recommend that you keep the changes under the 3,000-mile limit. If you don't drive your car too often, you should change the oil at least 4 times a year to keep things fresh.
One of the few maintenance items that automobile manufacturers have not found a way to eliminate. Regular oil changes are the best way to ensure longer engine life. If you frequently take short trips where the car doesn't always completely warm up, then oil changes are even more important because acid and moisture buildup does not have a chance to burn off. Some new engines normally run very hot and are very hard on oil. Even missing a single oil change on these cars can cause an engine to develop sludge which can cause engine damage in as little as 15,000 miles.
Today's modern oils contain detergents and additives that are designed to protect against sludge formation, but if you regularly do a lot of stop and go driving, like rush hour driving, engine heat will eventually break down these additives so that they stop protecting your engine. Sludge problems are NOT covered by a new car warranty. You could be stuck with a bill for major engine work! It happens more times than you think, usually to people who lease their car and think that they can get away with not doing proper maintenance.
The best way to protect yourself is with regular oil changes and save your receipts for your permanent records.
When an oil change service is referred to as an "Oil, Lube & Filter," the "lube" is a chassis lubrication where the mechanic applies grease to various steering and suspension joints under the car. Most modern cars are manufactured with sealed-for-life joints that do not have grease fittings; however if any of these parts were replaced, the new parts probably do have lubrication points and must be greased to prevent premature wear. If you have had parts replaced, make sure that the mechanic knows it or he may overlook them.
Doing an oil change yourself does not require much skill, but crawling under a car and having oil drip down your sleeve is hardly worth the $5 or so that you might save. Then, you have to deal with the old oil and filter. I could think of a more productive way to spend a Saturday afternoon. Cool Car is ready to fully service your vehicle.